A dedication ceremony for the memorial to the former Cheshire Regiment was held at the National Memorial Arboretum yesterday. The memorial followed two former soldiers' campaign after finding the regiment was not represented there on a visit in 2018. Ashley Farrall (left) and Stuart Harrison (right) then began fundraising.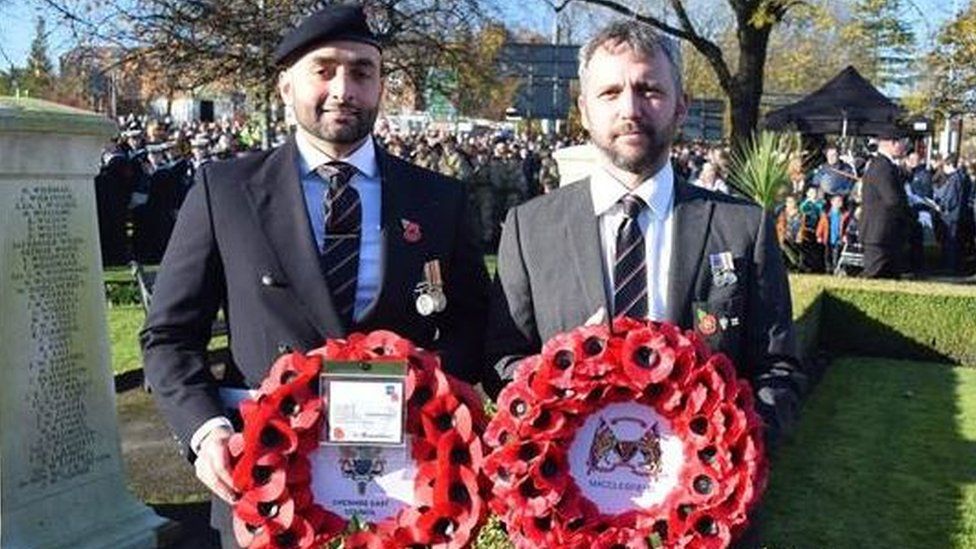 The 22nd (Cheshire) Regiment was formed in 1689 but was merged with the Staffordshire Regiment and the Worcestershire and Sherwood Foresters to form the Mercian Regiment in 2007. Both of the other regiments have dedicated memorials at the Staffordshire site.
Former L/Cpl Harrison, who served with the Cheshires in Iraq and Northern Ireland, said he had taken his son to the arboretum and had been "very disappointed that my old regiment didn't have a monument there to show him". He and former Pte Farrall, who also served in Iraq, raised £38,000 for the project through sponsored marches, raffles and bake sales in 2019 and 2020. Mr Farrall said the memorial would serve as a "focal point for people with connections to the Cheshire Regiment to pay their respects".
Retired Major General Andrew Sharpe CBE, the last commanding Officer of Cheshire Regiment 2006-2007 was also at the arboretum and presented a speech. Over 200 veterans, family members and their supporters were present, many to remember their fallen comrades and relatives. Also in attendance was Lt Gen Ian Cave CB, Colonel of the Mercian Regiment.
Mr Harrison and Mr Farrall's design was agreed by the Cheshire Regiment Association and approved by the arboretum's landscape and memorial committee. Their design includes a memorial stone engraved with the regiment's cap badge and motto, "Ever Glorious", flanked by two silhouettes representing soldiers from 1689 and 2007 and stood on a resin surface in the regimental colours of cerise and buff.